Navigating through the website is easy. Once you login in, you can find the menu on the top right of your screen.

My Projects
The "My Projects" page is where you can start new projects, open projects you are currently working on and access completed projects to download audio files or review past scripts.

In the top-left of the page on the left, you have the option to Start a New Project.
You can create A.I. Messages using text-to-speech voices, order messages to be recorded with Professional Voice talent, or start a project with the On-Hold Message Mixer.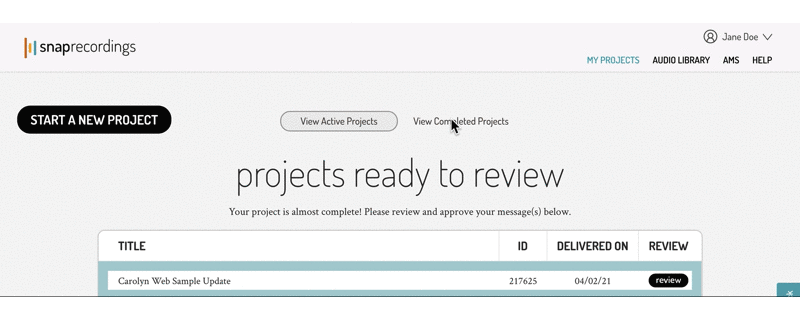 In the top-center of the page you can toggle between Active Projects and Completed Projects.
Audio Library
The "Audio Library" is where you can easily access and organize all audio files that have been created, uploaded, or integrated* with your account. Quickly search for any audio file stored in your account, create custom folders to organize audio files the way you want, and mark important audio files as favorites.
*Please Note - if supported, you will be able to see and search audio files located inside your in phone system and contact center platform integrations.
Help
The "Help" menu is where you can find help articles, knowledge base and video tutorials on how to use the website
User Account
The "User" menu is displayed with your name. When you roll-over this menu you can access:
Profile Settings

- change your personal information

My Plans and Packages

- See all your subscriptions & packages. You can see associated invoices and update/cancel certain plans.

Buy Plans and Credits

- Subscribe to Snap Recording Word Credits, Studio & AMS plans or Snap Recordings Word Credits

Integrations

- Connect an eligible Phone System & Contact Center to Snap Recordings

Team Members

- Invite users to join your account to help manage messages and installations

Sign out